RF Treatment Explained
Radiofrequency equipment is specifically designed to sculpt and remodel your skin. It's shown to be a remedy for lines and wrinkles, and other widely known skin problems that we encounter with aging or living in big polluted cities. So what exactly is radiofrequency? Wikipedia describes it as "any of the electromagnetic wave frequencies that lie in the range extending from around 20 kHz to 300 GHz, roughly the frequencies used in radio communication. By feeding an alternating current or voltage through an electrode or antenna, electromagnetic waves that go through space as fast as light can be created; these are called radio waves.
The term "radiofrequency" or its abbreviation "RF" are used as a synonym for radio – to describe the use of wireless communication, as opposed to communication via electric wires". RF is the lowest of the electromagnetic radiation frequencies. In surgery, RF uses electrons in a wave to heat tissues. With technological advancements, however, the beauty market has been able to shift from focusing on surgical RF to working with non-ablative RF. In fact, the American Society for Aesthetic Plastic Surgery has published that non-surgical skin tightened was the 7th most common non-surgical cosmetic treatment performed in the U.S in 2016. This advancement is being so highly taken advantage of because RF energy can be transmitted into the deep dermis and sub-dermal skin layers while surpassing the epidermis. Being able to heat the more inner layers of the skin while protecting the outer layer allows changes to the tissues and collagen production to occur without damaging the skin.
The Science of Radiofrequency
The human body is able to conduct currents, so when RF energy is applied to the body, it acts as part of an electrical circuit. Any resistance to the energy flow creates heat at the location of most resistance, often leading tissue to be cut or coagulated. Often times, radiofrequency is used in skincare treatments to tighten and lift the skin. Due to significant tissue penetration, unlike many other professional skin care procedures that affect only superficial layers, RF energy can reach deep layers of the skin. Through this, it is able to improve the underlying tissue structure without damaging skin texture. Radiofrequency treatment, in a nutshell, is using heat energy to boost elastin and collagen production, and thus facilitate tissue remodeling and tightening.
This treatment is overall very safe and result-oriented. It gained its popularity because it yields the same results as an invasive surgical procedure. The ability to reach dermis, the deepest skin layer, without any influence on the epidermis, the upper layer of the skin, is what makes this treatment so unique and sets it apart from all of the invasive and highly abrasive procedures that work only on the upper layers of the skin. When the deeper layers of the skin are quickly heated, the tissue contracts as if it's injured, and the healing process starts with new collagen and elastin production.
Boosting collagen and elastin production is very important for tighter, healthier skin. Collagen is responsible for protein delivery and is essential for firm skin formation. Wrinkles, thinning, and sagging skin are all results of collagen deficit. Collagen results in more supple skin, which is why radiofrequency appears to make patients younger-looking. Elastin is also vital for healthy skin, as its spiral filaments are responsible for tight, bouncy skin. In all, collagen and elastin production through radiofrequency treatments are essential for anti-aging beauty treatments.
Types of Radiofrequency
Monopolar/Unipolar
The prefix "mono" or "uni", meaning one, denotes that monopolar and unipolar RF devices have one electrode. Through this, the current that is generated in the device goes into the body from just one electrode on a handpiece and endures maximum resistance close to where the handpiece is placed. A grounding electrode is necessary for this kind of treatment to allow the current to travel back to the active electrode and complete the circuit. This grounding wand can be held in the hands of the patient or attached to the patient's body.
Bipolar
The prefix "bi", meaning two, denotes that bipolar RF devices have two electrodes. During this treatment, the current from the machine flows from one electrode back to the second. Thus, the circuit is contained in the tissues between the two electrodes on the same handpiece. No grounding wand or pad is necessary because the current is not free to travel across the entire body. The heating effect, as with all types of radiofrequency, is caused by the resistance to current in tissue rather than the electrode itself.
Multipolar
The prefix "multi", meaning many, denotes that multipolar RF devices use several electrodes to achieve its effects. Multipolar RF technologies use algorithms to deliver even energy and heating to various depths of tissue so heat can build up safely and rapidly. Electrodes are consistently switched as being grounded or active, leading to an even distribution of currents throughout tissues.
Radiofrequency Ablation
Unlike the first three types of RF discussed, Radiofrequency Ablation is invasive and includes heating a vein enough to cause the tissue to contact and close the vein. This kills the cells in the wall of the vein, effectively closing off the vein forever. It includes inserting a catheter into the vein and using anesthesia. An electric current travels through the catheter into the electrodes on the device, and into the vein wall. It then switches direction thousands of times per second, creating vibrations and heat production in the vein wall. This amount of heat contracts the vein and kills its cells to prevent it from ever growing again.

Using RF with other Modalities
Research has shown the effectiveness of other beauty treatments are amplified when they are used in conjunction with radiofrequency. For example, RF has been widely used with light-based technologies to remove the focal point that the light would usually go to. Since lasers and IPL seek pigment in order to treat an issue, like hair or tattoo, radiofrequency can remove the color focus of RF technologies. This allows light delivery to be color blind and treat all hair colors (including blonde, grey, and red) that would usually be too light to be targeted by IPL or lasers on their own.
Safety and Some History
Electric currents have been used in medicine for almost as long as electricity has been known to man. Radiofrequency surgery has been used in several surgical specialties before it gained popularity among cosmetologists, dermatologists, and estheticians. And with recent developments in technology and cryogenics, non-invasive RF therapy has joined invasive procedures in the list of treatments that can reduce cellulite and fat.
Radiofrequency treatments are generally considered safe and recommended to many. If you do a little research, you may be surprised at how different this procedure was a while ago. One of the main differences was how patients reacted. The pain experienced during treatments back then was so severe that patients needed to undergo full sedation. Today, however, the RF is so simple and pain-free that you can purchase a personal Radiofrequency facial machine yourself and safely use it in the comfort of your own home.
The Great Benefits
Radiofrequency skin tightening machines or RF facial machines are designed to be primarily non-invasive. There are no needles or scalpels involved, and no damage whatsoever is be done to your skin. There is very little time, if any at all, needed to recover after an RF treatment. You can easily book a visit to your beauty salon during your lunch break; there is no need to take time off work to heal.
If other anti-aging procedures have failed you and you are not ready for that facelift surgery just yet – RF may be the perfect treatment for you. For example, if laser therapy has failed to deliver results, this could be because your skin needs to be engaged on much deeper levels. Skin tightening is the main benefit RF treatment is known for. RF waves reach deep into tissues and boost protein production, whereas laser treatments don't even come close to engaging deeper levels of the skin. Often times, patients see results after only just procedure.
There is no need for monthly visits; you only have to repeat the treatment every 6 months. But if you've invested in a home skin care RF device, you can use it quite often – just read the instruction manual carefully.
The Main Benefits for Your Face
There are some signs of aging that we all just hate, face lines and wrinkles being the worst. And age is not the only reason for those deep lines and wrinkles. Pollution, dehydration, quick weight loss, sun exposure – all of those are responsible for face wrinkles, sagging jaw lines, and loose skin.
With mouth wrinkles, RF machines stimulate collagen and elastin production and increase blood flow. Research shows that tightening results around the mouth with the RF treatment are very similar to those achieved after plastic surgery.
RF tightening is also highly beneficial for forehead wrinkles. These wrinkles are very hard to combat, so usually, fillers, Botox, or surgery are recommended to solve the problem. An effective alternative treatment, however, is radiofrequency skin tightening. Forehead wrinkles can also be successfully treated with this non-surgical, non-invasive procedure. RF procedures have shown great results with the forehead: tissue tightening, brow area lifts, and pulling back the skin reduce lines and wrinkles.
And then there are those very unattractive under-eye wrinkles. Radiofrequency facial machines are widely used to eliminate under eye wrinkles with collagen and elastin production boosts for tighter skin.
The Main Benefits for Your Body
Radiofrequency equipment is specifically designed to target and, as a result, reduce cellulite. RF beauty machines easily smooth cellulite skin bulges by applying heat to tissues that in turn contract and become tighter. It increases blood circulation, metabolic processes, and lymph stimulation, so fat cells become much easier to be destroyed by cavitation. This treatment helps prevent and treat cellulite with a combination of mechanical massage and radiofrequency energy.
Radiofrequency equipment is also used to correct post liposuction complications. After an intrusive surgery, bumps can appear in areas where fat was surgically removed, causing the skin to sag. An RF treatment is perfect to treat both of those problems.
You should also consider RF tightening treatment if you want to get rid of chest and décolletage wrinkles. Accelerated protein and elastin production is reported to tighten and lift the breast area.
Side Effects & Contradictions
Redness is a quite common side effect, as patients may experience mild swelling. Typically, the area that has been treated may become a bit oversensitive. Some people also experience mild bruising or blistering.
It is recommended to keep your skin clean before treatment since product-free skin has a lower chance of reacting to a treatment with previously mentioned side effects. Another thing to understand is that some people can have negative reactions to radiation. Experts have declared radiofrequency therapy to be completely safe for salon and/or home use, and this level of radiation would cannot cause any harm. However, people have different thresholds of pain tolerance, so the treatment may be uncomfortable for certain individuals. As a solution, anesthetic cream, relaxants, or pain-relief medications can be used before treatment.
Anyone with electrical devices like metal implants, pacemakers, dental plates, and heart valves may NOT be treated because the current from RF can damage those devices or cause dangerous effects for patients.
Absolute contraindications include pregnancy and breastfeeding. All forms of cancer, AIDS, and HIV are at the top of the list. If you are undergoing chemotherapy, have uncontrolled diabetes or uncontrolled blood pressure, you cannot undergo the procedure. Some other absolute contraindications include sunburns, vein inflammation, lupus, immunodeficiency, keloid scarring, evasive pigmentation, chemical peels, laser resurfacing, and steroid medication.
Partial contradictions: surgery less than 6 months ago, areas with skin diseases, infections, inflammations, varicose veins, metal contraceptive coil, metal implants, and screws should be avoided.  If you take antibiotics, you should complete the course before scheduling the procedure. You must wait 2 weeks after using depilatory creams, Botox, filler treatments, or laser treatments.
The Machines
RF Facial machine Zemits INTRO
The RF Facial machine Zemits INTRO is a compact and stylish, modern machine that delivers skin tightening results. Amazingly, it is very inexpensive you can manage to get your investment returned in just one week of work. Though very light, easy to use, and affordable, this is a very powerful machine, and is designed to be operated by trained professionals only.
The Zemits INTRO  Radio frequency facial machine delivers great results. First and foremost, this an is RF treatment, so it lifts, tightens, and reduces wrinkle and pores. It's also reported to improve skin elasticity, color, scars, and stretch marks.
The treatment protocol is very simple:
Step 1. Clean the skin.
Step 2. Apply conductive gel or serum onto the skin.
Step 3. Select minimum working parameters onto the machine, starting at low intensity and increasing steadily throughout the procedure. Always keep the hand-piece moving- do not hold it still in one area
Step 4. After treatment, apply a moisturizing and cooling mask, then SPF cream.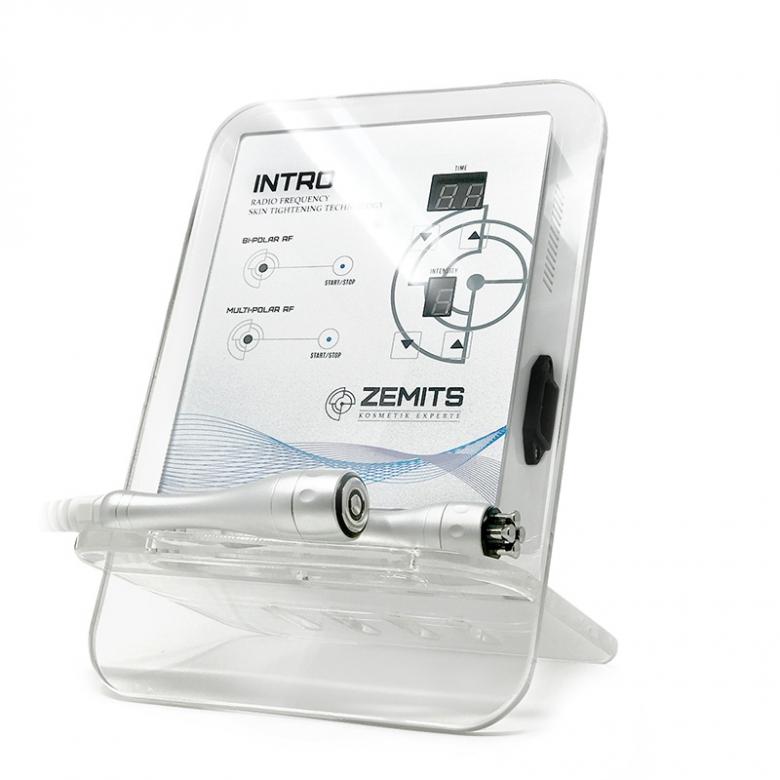 If you want to offer more to your clients you might want to think about investing in a Multifunctional skin care machine that offers Microdermabrasion. And remember, you can drastically improve the results of RF treatment with diamond microdermabrasion.
So you see, it really isn't so hard to turn back the clock on age; you just need a bit of radiofrequency