What is Ultrasonic Cavitation?
Ultrasonic Cavitation is a treatment designed to slim patients by destroying fat cells and then eliminating them from the body. Because this technology emits concentrated sonic energy at specific areas on the body, it can selectively disrupt the cell membranes of subcutaneous fat cells.Since ultrasound emits a sound waves above frequencies of 20,000 hertz, humans are unable to hear this vibration (we can only hear frequencies from 20 to 20,000 hertz). A Megahertz (MHz) is 1,000,000 hertz. Usually, an ultrasonic frequency of 1 MHz to 5 MHz is used for various medical treatments. The lower the megahertz is, the stronger the treatment. Lower frequencies are highly penetrative and directional. As the sound waves alternate, they cause ions to vibrate and emit a heavy pressure onto the membranes of fat cells. Once this membrane is broken down, the fat contents of the cells leak into the area of interstitial fluid between cells to be metabolized into free fatty acids and glycerol. The insoluble fatty acids then travel to the liver to be decomposed, and the aqueous glycerol travels to the circulatory system to create ATP. The fat, in turn, eventually exits the body through the natural pathways of the body's metabolism.
How can the Effectiveness of Ultrasonic Cavitation be Maximized?
This is our secret to maximizing the efficacy of cavitation slimming treatments: combine them with radiofrequency. Perform radiofrequency therapy, cavitation, then lymphatic massage. Here's why:
Radiofrequency therapy consists of delivering radiofrequency energy to the skin. Electrodes heat both the dermis and subcutaneous layer of the skin to contract collagen fibers, increase fibroblast metabolism, and stimulate the production of new collagen fibers. When you heat up the deep dermal layer before beginning cavitation, you increase blood circulation, oxygenation in cells, and open vessels. Furthermore, adipocytes (fat cells) are relaxed by eliminating any excess fluids within them, allowing cavitation to destroy a larger quantity of fat cell membranes in a shorter time. Radiofrequency energy also stimulates lymph flow before cavitation even begins, so as cavitation is being performed, waste products are already beginning to travel through the body's channels for expulsion. Radiofrequency (RF) energy treatment is a modern technology used for non-surgical skin tightening on early signs of loose or sagging skin. It is an electrical current technology with a frequency range of 0.1 to 5 MHz. Pure RF energy alone is primarily used to treat skin laxity through facial tightening, and it is best suited for patients with mild to moderate tissue sagging.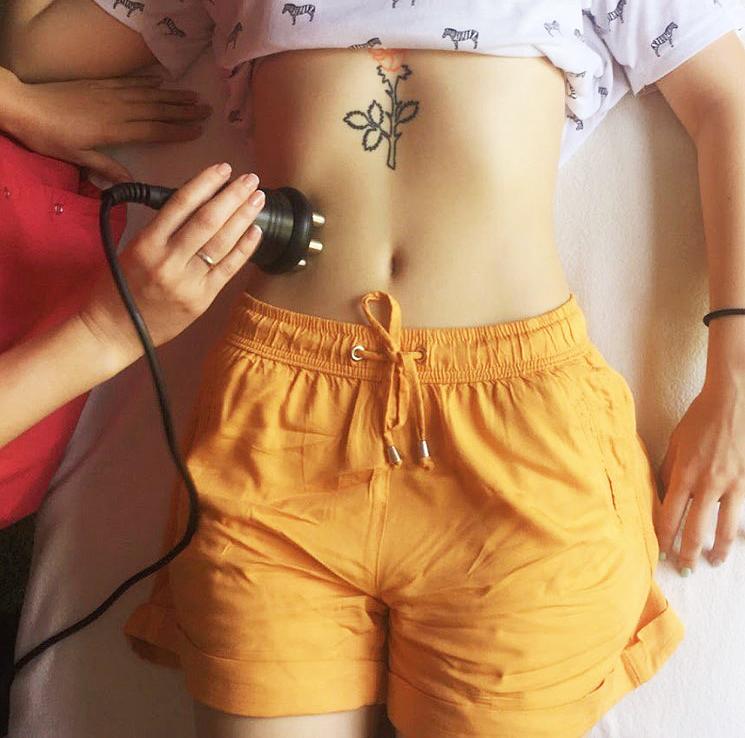 Once cavitation is done after radiofrequency therapy, lymphatic drainage must be performed as a final step to stimulate the lymphatic system in eliminating all the fat fluids that have leaked out as a result of adipocyte breakdown. The exact lifetime amount of fat cells is predetermined by nature; this means that new adipocytes do not form throughout one's life. Rather, the increase in fat deposit volume is caused by growth in existing cells, and not by the increase in amount of fat cells. If lymphatic drainage does not occur, the fat contents will eventually just be reabsorbed by other undamaged fat cells, making no difference between the start of the treatment and the end.
Any type of lymphatic drainage may be performed, including: manual massage, pressure therapy, electromyostimulation, vacuum massage, or LPG massage. Thus, performing some sort of lymphatic stimulation for this is integral to giving your clients the results they want. Furthermore, increased water consumption will also facilitate quick replacement of fluids in the organism. All processed liquid then leaves the organism through natural excretory pathways (urination, defecation, sweating).
What good does Cavitation do after Liposuction?
When individuals gain weight, the size and volume of their fat cells expand. Liposuction reduces the amount of fat cells that dwell in localized areas, and ultrasound can be a key tool in creating high-quality results. One kind of liposuction is even performed with the support of ultrasound. Ultrasonic liposuction utilizes a cannula powered the same ultrasound waves persistent in esthetic cavitation machines, melting away fat as soon as the ultrasound touches the fat. As previously discussed, this works by bursting fall cell walls and liquefying the fat. With ultrasonic liposuction, this allows the fat to be vacuumed out much easier, especially in fibrous areas. A suction is then used to remove the emulsified fat. In cases where ultrasound is performed after liposuction, overall esthetic results can still be significantly improved. Although liposuction sucks out a number of fat cells in their entirety, there are limits to how much can be removed and the true results afterward. For example, cellulite and stretch marks are completely immune to liposuction, so patients often seek to tighten their skin after liposuction. This is when cavitation comes in.
Since cavitation is often used with the synergy of radiofrequency therapy as previously recommended, patients will see a significant improvement in their liposuction results after undergoing ultrasonic cavitation. Radiofrequency energy thickens the dermis, decreases wrinkle depth, and makes skin firmer with increased, lifted contour. The currents emitted through radiofrequency electrodes shorten prevalent collagen fibers, allowing the skin to tighten and lift almost immediately. It also induces skin tightening by stimulating fibroblasts to produce more new collagen and elastin fibers. That is why a Cavitation/radiofrequency combination treatment is a great option for those who have gotten liposuction at any point in their lives.
Most Effective Types of Radiofrequency
Tripolar radiofrequency slowly heats up the dermis and encourages collagen synthesis which makes collagen fibers sturdier and healthier. This reverses the visible effects of aging to a degree since aging makes collagen weaker (creating wrinkles and other imperfections). It works by using algorithms to control how electrodes apply currents to individual fat layers, making results clear after just one treatment. Three electrodes emit radiofrequency energy directly onto a localized spot and uses much less energy than other radiofrequency methods, allowing for a comfortable feeling during treatment. This technology is more efficient and focused than monopolar radiofrequency procedures, creating optimal results for whatever the patient requests.
Multipolar Radiofrequency stimulates electrical reactions within the cells of the dermis as they are heated. Six electrodes work in conjunction by constantly switching between negative and positive charges to deliver the best possible combination and depth of energy into the skin. Small currents travel down one electrode into the tissue and then up into the other active electrode. Used with tripolar frequency, the intensity of is reduced to create nicer, more focused results.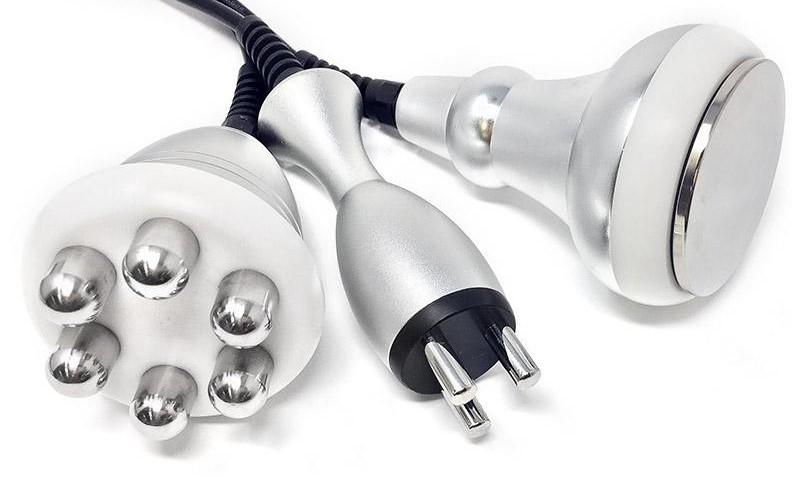 Treatment Results of Using Cavitation + radiofrequency
General facial tightening and brightening
Lifting of brows and tightening of forehead skin
Thickening of skin and tightening and lifting of skin on the upper cheek
Slight lifting and diminishing of enlarged pores on cheeks
Diminishing of sagging along the jawline
Tightening of skin and diminishing wrinkling of the neck and decollete area
Visual improvement of scars and stretch marks
Stimulation of the renewal of skin cells
Improvement of microcirculation and face color
Improvement of skin elasticity
The Best Machines to Achieve these Results:
4 in 1 Cavitation RF slimming machine Zemits Pro-Light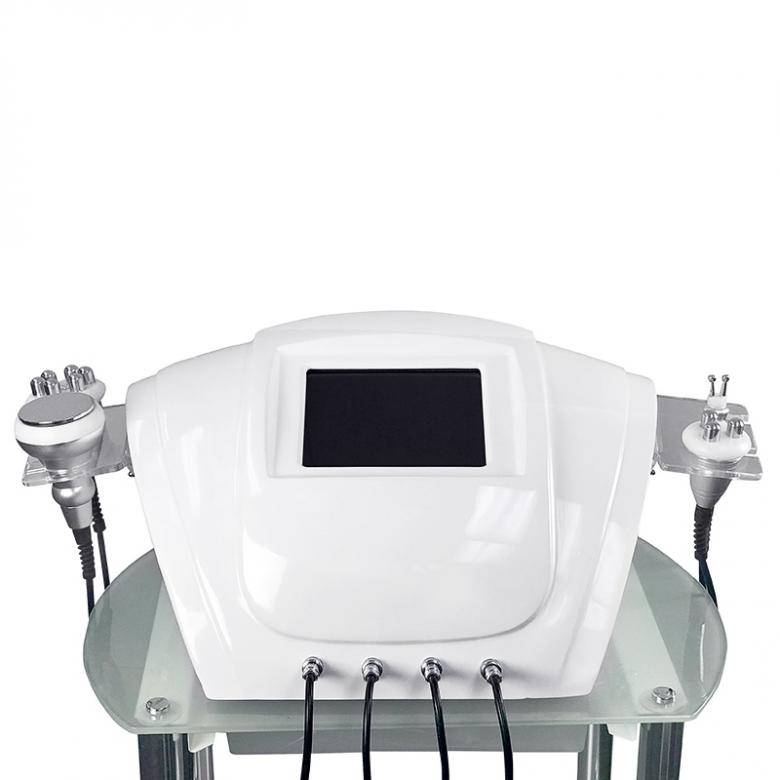 The 4 in 1 Cavitation RF slimming machine Zemits Pro-Light is one of the most powerful cavitation systems in the beauty industry. This system includes a strong and solid ultrasound cavitation handpiece, a large multipolar radiofrequency handpiece for body skin tightening, a convenient tripolar radiofrequency handpiece for arms and back, and a small bipolar radiofrequency piece for eye rejuvenation and facial lifting.
Benefits of the 4 in 1 Cavitation RF Slimming Machine Zemits Pro-Light
The most powerful cavitation system with Ultrasound intensity up to 50 J/cm2
Smart integrated programs for safe and effective cavitation treatments
Safe and effective radiofrequency nozzles with intensity up to 20 J/cm2
Very easy to use and comfortable
Touch screen with advanced yet easy to use features
Comfortable hand-pieces that can be stored on the machine
Attractive, sleek modern look that attracts clients
Small Bipolar radiofrequency tip for convenient work on the face and eyes
Sturdy acrylic handpiece holders for added organization and comfort
What Procedures can be provided?
Ultrasonic Cavitation
Multipolar Radiofrequency for body tightening
Tripolar Radiofrequency for neck and dellocette lifting
Bipolar Radiofrequency for facial lifting
Handpieces and Accessories
Solid cavitation handpiece
Multipolar large radiofrequency handpiece
Tripolar medium radiofrequency handpiece
Bipolar small radiofrequency handpiece